However, even during her stay in hospital, the woman continues to be inspired to teach, and she does it with courage.
For many educators, teaching is more than just a job. It's a true passion and there's no impediment to them doing what they love.
This inspirational educator teaches from her hospital room and sweats as hard as she can while undergoing cancer treatment. She is the kind of teacher you will remember from life because you loved her so much. She was a teacher for 32 years, including 12 years as a kindergarten teacher.
"Teaching kindergarten is like going to Disney World. Every day is special for me, that's why I'm here. We make lessons theatrical and fun and playful, and they love that. They're so excited to be out there and doing that."
Headteacher Beth Behnke doesn't think Kelly will miss a day's work. For now, Kelly's everyday life and that of her students will continue.
"She came to me during the summer, before school started, and said, 'Please don't make me take a (medical) leave.' I said, 'Of course not. We'll figure it out together."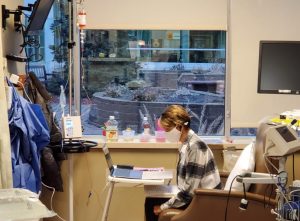 Kelly was diagnosed with terminal ovarian cancer. But that hasn't stopped her from teaching. She teaches every day from her hospital room, despite fighting for her life.
"When I was first diagnosed five years ago, I took a holiday because I was ill. I missed teaching so much."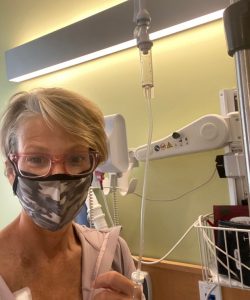 Teaching from her hospital room
Kelly has been teaching students every day while undergoing chemotherapy.
There is no better way to spend four or five hours with a five-year-olds children. It just makes time pass so much faster.
Ms. Klein said her students help her when she gets up every day. They remind her to be happy, to be strong and to move on. Teaching from her hospital room is what she wants to do. she says that being able to continue is a gift and that her little students are the best medicine she could ask for.
My students give me strength.
It is not always easy to explain to young children about illness and cancer. But Kelly explains in a simple way what happens to her body.
Her schoolchildren know she has cancer. They know she goes to the doctor once a month to help her get better. They are part of her daily routine, even when she is undergoing treatment. And they know the songs she plays as she drives to the hospital for treatment and back again.
She takes the opportunity to get her to take her dance breaks on her dance app. They know their songs "Pump Me Up," "Go to the doctors house" and "We've been dancing for months" and "Go Noodles.".
As I said, it's not easy to explain to young children how tragic what's going on, so Kelly didn't tell her students that she lost her hair to chemo. "I'm not saying it was eye-catching because it wasn't. The first time I lost my hair, it was really long. I shortened it, so it really wasn't traumatic. But when you have a baldness, it can be scary."
Kelly, however, hopes her students will remember her and the time they spend together. She wants them to know and see that cancer is not a death sentence. And she hopes that people with cancer will thrive and be silly, happy, playful and fun and still be able to contribute.