How far would you go to take the most stunning wedding photos in wedding history? After going to great pains to avoid traditional weddings, this couple has surely raised the bar a few notches. Mount Everest was the setting for their event.
Ashley Schmeider, 32, and James Sisson, 35, spent a whole year planning and practicing for their wedding ceremony. This may seem strange without some context as to why they had to plan their wedding so far ahead of time.
The gorgeous Californian couple had decided long ago that a traditional wedding ceremony was not for them. They agreed that if they ever married, it would be on the summit of Mount Everest.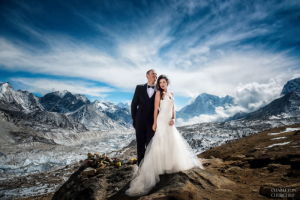 So, when it came time to settle down, they kept their word and prepared for the lengthy vertical trip up the mountainside with their photographer, Charleton Churchill.
A Wedding on Mount Everest
The bride and groom, their photographer, and their loving wedding ''guests" trekked almost three weeks to reach Everest base camp, which is 17,000 feet above sea level. They had to suffer the unpredictability of the weather, freezing temperatures, deep snow, and altitude sickness together on the journey – talk about a memorable bonding experience.
After all of their efforts, it's only fitting that the pair set a few records by becoming the first couple to successfully have a wedding ceremony on Mount Everest while dressed in traditional wedding attire.
"I had attempted base camp with another [couple] in 2015, but the horrific earthquake in Nepal, including the big avalanche that swept EBC [Everest Base Camp], turned everyone around off the mountain," recalls Charleton Churchill, the couple's photographer. I didn't think I'd be able to find another couple to marry on Everest anytime soon."
Ashley, on the other hand, contacted the adventure-seeking photographer via his Instagram username last year. The bride-to-be expressed her wish for an adventurous wedding and requested options for a location. The pair agreed to marry on Everest when Churchill recommended it.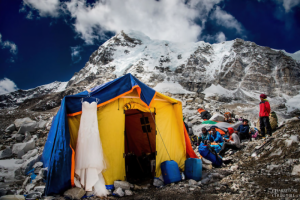 On his website, Churchill writes, "Both James and Ashley made for excellent trail partners. We were like a family to each other. Ashley is a tough young lady who dominated the mountain trail and kept a steady pace. James is a wonderful man who looked after Ashley and was constantly concerned about her needs. He's also a stand-up comedian who made us laugh a lot. It's difficult to keep a smile on your face after a few days on a long mountain trek with all the pressure and lack of supplies, but we managed."
They performed admirably. "James and Ashley exchanged vows in Mount Everest Base Camp right in front of the famous Khumbu ice-fall, where people use ladders to navigate crevasses, and with the magnificently carved Nuptse Face in the backdrop," Churchill writes. "All of these iconic mountains surrounded their magnificent wedding. It was lovely, brief, and we took a few shots before packing and preparing to leave."
As an added bonus, their small journey resulted in some of the coolest wedding images ever, as well as some life-long memories.